WhatsApp alert: List of recent bugs, scams you must know
WhatsApp has become one of the most frequently used applications on smartphones. With its increasing popularity, the messaging app has become prone to some of the bugs and even scams. The app has become such an integral part of people's lives that we need to distinguish ourselves from what is fake news and what is legitimate information on WhatsApp. For those who want to be sure that the messaging app doesn't fiddle with their data, can now download a report of their WhatsApp account information and settings.
Here are some of the bugs and scams that have soured the experience of the messaging application.
1. WhatsApp viral message: Is Jet Airways giving 2 free tickets? Here is truth
Any message on WhatsApp can become viral given it fulfills a few parameters. Recently, a message on WhatsApp went viral. It claimed that popular airline Jet Airways was offering 'two free tickets' to celebrate the airline's 25th anniversary. Following the message going viral, Jet Airways took to Twitter and wrote: "#FakeAlert There's a fake link being circulated regarding ticket giveaways for our 25th Anniversary. This is not an official contest/giveaway and we advise caution. Genuine contests & giveaways are hosted only on our verified social media accounts, indicated with a blue tick."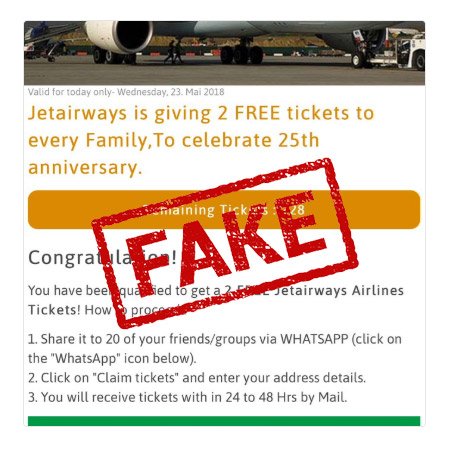 2. WhatsApp Alert! Latest bug allows blocked users to send messages – Are you among them?
Facebook-owned messaging application WhatsApp found itself in a fresh turmoil recently. It was reported that a bug in WhatsApp has surfaced and it allowed users to send messages to users who had blocked them. The bug didn't restrict the blocked user to send messages, even the blocked user could read statuses without any restrictions. When we at financialexpress.com checked from WhatsApp on iOS to WhatsApp on iOS, the bug did not show up.
3. Beware! Don't tap on 'Black Dot' WhatsApp 'hang' message to prevent crash; here's what you should do
Earlier this month, another message went viral, causing a lot of problems for users. A new forward message floating on WhatsApp caused a kind of jam in the app for a few seconds when the recipient tapped on the message box. The moment a user tapped on the message, or the black point just to conform with the directions given in the first line (out of curiosity), WhatsApp hanged for a while. While nothing malicious was reported behind this bug but it did annoy many users. After creating trouble on Android device, the bug reached iOS devices. It seemed the bug caused a lot of trouble for iOS users as it not only hanged the smartphone, a user had to restart the device to use the app again.
4. The notorious Pizza Hut Scam
Another scam that became popular early this year is the Pizza Hut scam A WhatsApp message that went viral read: Pizza Hut is Giving-away 4 FREE Large Pizza to everyone on its 60th Anniversary. Get your 4 free Pizza at: https://pizza.iixi.win/. After you click on the link, it would ask for your personal information and would ask you to nominate seven more friends. This way, scamsters were able to manage and collect your personal information.
5. This app can let you spy on your WhatsApp contacts: Here's how it works
WhatsApp users should be extremely beware of this malicious app. Recently, a new app called Chatwatch emerged. This malicious app allows other users to keep a track that when you go online on WhatsApp. Chatwatch app it tracks when 'Last Seen' is hidden by the user. Even though the malicious app has been taken down from iOS, it can be seen still available online. The app seems to exploit the 'online status' feature. This 'online feature' on WhatsApp works irrespective of whether you have kept your status as invisible for all.
Source by financialexpress
Share: