Money plea from Facebook friend? Beware, messenger hacked
NEW DELHI: A number of Facebook users in India on Thursday reported hacking of their accounts as their FB chat messenger was accessed without their knowledge, and used for seeking money from the people in their friend list.
The incidents, which also saw people getting notifications on their WhatsApp accounts from 'Facebook' itself requesting change of their password, comes days after the company reported a breach of 50 million accounts globally, including that of founder Mark Zuckerberg and chief operating officer Sheryl Sandberg.
Sources in the IT ministry said they were aware of some of the hacking incidents, "and would be investigating" the matter. "This is a serious issue, and we will seek explanations from the company," a source said.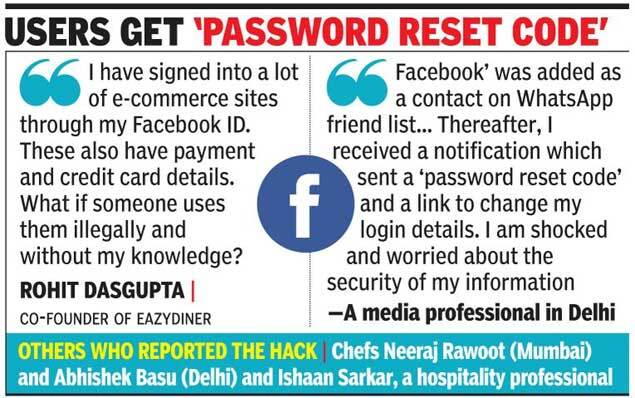 A questionnaire sent to Facebook India remained unanswered, while a spokesperson said over telephone, "All is well". Those reporting the hack on Thursday included restaurateur Zorawar Kalra as well as a media professional in the national capital, a chef based out Mumbai, and a start-up owner in Mumbai.
"This is very serious matter, and needs to be looked at immediately," said Kalra — who has over 10,000 people following him on his personal Facebook account and over 2.5 lakh followers on the verified page.
With most of his 1,800 employees also being on his friends list, he was in for a shock when people started calling him to confirm his so-called request for 'immediate money'. "I have asked my marketing team to immediately write to Facebook and sort out this hacking incident."
Rohit Dasgupta, co-founder of dining app EazyDiner, too put up a post narrating a similar hack where his friends were requested to immediately transfer money electronically into an account of a major PSU bank.
Dasgupta has taken a screenshot of the chat, and shared this on his Facebook timeline. "I am very worried about safety of my personal information on Facebook. I have signed into a lot of ecommerce sites through my Facebook ID. These also have payment and credit card details. What if someone uses them illegally and without my knowledge?" Dasgupta said.
Others reporting the hack include chefs Neeraj Rawoot (from Mumbai) and Abhishek Basu (Delhi), and Ishaan Sarkar, a hospitality professional based in Delhi. All of them have posted details of the hack on their Facebook timeline.
Another media professional in the national capital said that 'Facebook' was added as a contact on his WhatsApp friend list. "Thereafter, I received a notification which sent a 'password reset code' and a link to change my login details. I am shocked and worried about the security of my information," the person, who requested anonymity, said.
Facebook is already facing a CBI inquiry in relation to the massive data leak scandal from its one-time vendor Cambridge Analytica. The social media giant, which has been reprimanded by the IT and law minister over its security practices, is also facing another inquiry related to the recent data breach of 50 million users.
"The data of Indian users appears to have been compromised. In fact, we fear that the rot may run a lot deeper," a source in the ministry said.
Share: