Lost Aadhaar card? Here are the steps you can follow to retrieve it
New Delhi: If you have lost your Aadhaar card and have been looking to retrieve it, there is now a way to do it easily. The Unique Identification Authority of India (UIDAI) in a new post on micro-blogging site Twitter said that individuals can visit any nearby Aadhaar centre and retrieve the 12-digit card by sharing some basic info and biometric authentication.
"Lost Aadhaar? Don't worry. Visit any Aadhaar centre and retrieve your Aadhaar with some basic info and biometric authentication. If you have the Aadhaar registered mobile number, then you can also retrieve your Aadhaar online from https://resident.uidai.gov.in/find-uid-eid ."
Using the above-mentioned link, any person who has lost his/her Aadhaar card can enter basic details on the portal 'Retrieve EID/UID'. All you need to enter is the mobile number, email id which was earlier provided at the time of enrolment; the online process is impossible to complete without this data.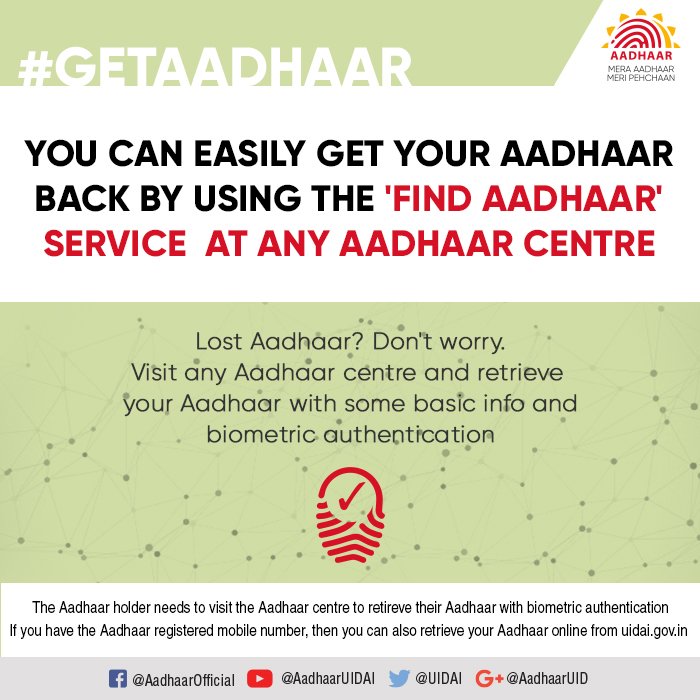 According to the UIDAI, any individual who has lost his/her card can get it back easily using the 'Find Aadhaar' service at any nearby Aadhaar centre. For those who do not have an Aadhaar-registered mobile number will need to follow this process to retrieve their cards.
It may be that Aadhaar has, over the course of its existence, become an important document, despite several legalities surrounding it. Several tax authorities have already suggested concerned parties to get Aadhaar linked to various documents but a decision on the multiple pleas against the use of the unique identification document has been reserved by the top court.
Source by timesnownews
Share: