Junior Hockey World Cup: Blaze of India's young guns
Putting to practise lessons taught by coaches, junior world hockey champions stunned fancied teams with sheer pace, grit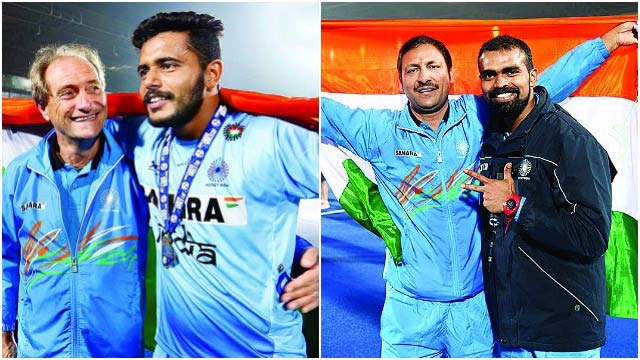 Has anyone, in recent times, seen Indian hockey players dominate a match with sheer pace?
This question was asked by those who watched Indian colts outpace Belhium, considered Europe's most improved country in the sport in the Junior Owrld Cup hockey final.
The first 20 minutes of title clash witnessed some of the most amazing moments as Indian players displayed skills, which coach Harendra Singh had been teaching them.
Harendra knew what was in store for the fans during the tournament. His only worry after reaching Lucknow was the bumpy surface of Major Dhyan Chand Stadium. But then he knew that it is going to trouble other teams as well.
It was only a question of putting all the lessons into practise. The short bursts and sharp passes coupled with the crowd support was enough for the hosts to stun their opponents. Before Belgium could realise what was going on in first 20 minutes, the game was over for them.
Indian camp knew that the Belgian boys would find it hard to play in front of packed house. So, the strategy was devised accordingly and Parvinder Singh, Mandeep Singh, Harjeet Singh or Gurjant Singh were floating in the air with ball from the word go. The Red Devils were taken aback and there was no way their coach, Jeroen Baart, at that moment could communicate with his young boys.
His voice could no way be heard amidst vociferous home support provided by nearly 18,000 spectators. There was just one way left for coach to communicate and that was sign language. But before the players could understand what their coach was trying to say, Indians were already two goals ahead after 22 minutes. Gurjant and Simranjeet Singh had already been successful in reversing the Indian hockey trend for the times to come.
"We were left talking in only sign language. This kind of crowd and players' speed left us with no choice but to just defend," the Belgian coach said summing up the first 20 minutes of the game.
Hard work pays off
However, Harendra had no such issues . He knew that whatever he has taught his wards since April 25, 2014 — when he took over as coach — is enough to beat any side in the world.
In fact, just before the start of the tournament Harendra said, "Whether or not I am with these boys, they are surely going to lift the World Cup."
Such was his confidence in the training he has imparted to the team. And why not, the way Indians moved on the turf, Belgium was lucky to have not conceded three or four more goals. They were overshadowed in their own game. By the time Red Devils got a sense of what is happening, it was just too late. In fact, the watch was also stopped when they got one chance to find Indian net.
Then there is also senior chief coach Roelant Oltmans, who is known to be a disciplinarian. And the Dutchman has also contributed in charting the roadmap during the course of tournament. During the match against Spain, Indian colts earned four — two yellow, two green — unnecessary cards and Oltmans hauled them up for indiscipline on the turf.
Another way Oltmans drove home his point on discipline and punctuality was by enforcing daily fine on player who is late by anywhere between one to five minutes to team meetings, get togethers, official functions, video sessions or even the team dinner. The fine ranged between Rs 500 to 1,000 depending on the duration of delay.
"It is not a punishment but a way of making everyone realise that discipline and punctuality are very important. Anyone who is late is fined, no excuses," he had told the players, according to a source.
This is another matter that this amount was later used to order snacks and drinks for the team.
The team is now off to their respective towns to spend time with family before getting ready for the grind. One can only hope that their journey to the senior team would be as speedy and impressive as they have played in the last 10 days.
Source by dnaindia….
Share: