Beware! Rise in fake Rs 2000 notes, data reveals; Don't get cheated of your money, catch them this way
Fake Rs 2000 notes have become a major cause of concern for both citizens and RBI. Both are losing massive amounts of money to these forged Rs 2000 currency notes. While every month RBI prints new notes for India, they also come across major counterfeit banknotes as well. As for Indian citizens, fake notes not only create a situation of fraud and forgery, but the money they carry itself is of no value and they loss huge amounts of their hard earned money. It is truly tragic. Also, being caught with fake notes will bring new troubles for you from authorities. Those caught with fake currency notes are even suspected of money laundering or creating black money, financing terrorism.
Guess what! The high value notes of Rs 2000 denomination, which was a gift from government post demonetisation, has seen a rise in fake notes. Simply put, many are creating fake Rs 2000 notes and cheating you. Apart from banning two specific notes namely Rs 1000 and Rs 500, demonetisation was also a gateway to give a makeover in entire currency chest of India by government. Each new note like Rs 10, Rs 50, Rs 100, Rs 200 have the similar resemblance of new Rs 500 and Rs 2000. Hence, it can be frustrating enough to end up with a fake note in your hand. Even exchanging these fake notes, if you have mistakenly encountered it, will be a lengthy procedure as it will pass through various investigations.
Thereby, as a citizen it is very important to understand whether the note you carry is real or fake. However, unbelievably, these new fake notes are so good, that it becomes difficult, if not impossible, to tell whether they are original or not!
Data given by RBI in its annual report of FY18, revealed that a total 522,783 pieces of counterfeit notes were detected in the banking system, of which 63.9 per cent were detected by banks other than the Reserve Bank.
Shockingly! In the Mahatma Gandhi (New) Series of banknotes in the denominations of Rs 2000, counterfeit notes detected during 2017-18 were 17,929 as against
just 638 counterfeit notes witnessed in the corresponding period of previous year.
On Tuesday, it was known that, Special cell of Delhi Police busted a Fake Indian Currency Notes (FICN) racket, recovering fake currency worth a whopping Rs 8.48 lakh in denominations of Rs 2000. All of them were fresh as if straight from the mint! DCP, Special Cell, said the fake currency has been printed so efficiently that a common man would not be able to differentiate it.
That's a massive number, and it could have been travelled in your hands as well, as these notes can fool you. Hence, common man if you have any doubt on your Rs 2000 note, then check these factors to derive whether they are real or no. If the note is fake make sure you take it to a nearby police station or RBI headquarters. Acting first will always save you!
Check the Rs 2000 notes by seeing whether the ones you are holding have these features and marks! 
Obverse Front
1. See through register with denominational numeral 2000.
2. Latent image with denominational numeral 2000.
3. Denominational numeral २००० in Devnagari.
4. Portrait of Mahatma Gandhi at the centre.
5. Micro letters 'RBI' and '2000' on the left side of the banknote.
6. Windowed security thread with inscriptions 'भारत', RBI and 2000 on banknotes with colour shift. Colour of the thread changes from green to blue when the note is tilted.
7. Guarantee Clause, Governor's signature with Promise Clause and RBI emblem towards right.
8. Denominational numeral with Rupee Symbol, ₹2000 in colour changing ink (green to blue) on bottom right.
9. Ashoka Pillar emblem on the rightMahatma Gandhi portrait and electrotype (2000) watermarks.
10. Number panel with numerals growing from small to big on the top left side and bottom right side. For visually impaired Intaglio or raised printing of Mahatma Gandhi portrait, Ashoka Pillar emblem, bleed lines and identity mark.
11. Horizontal rectangle with ₹2000 in raised print on the right.
12. Seven angular bleed lines on left and right side in raised print.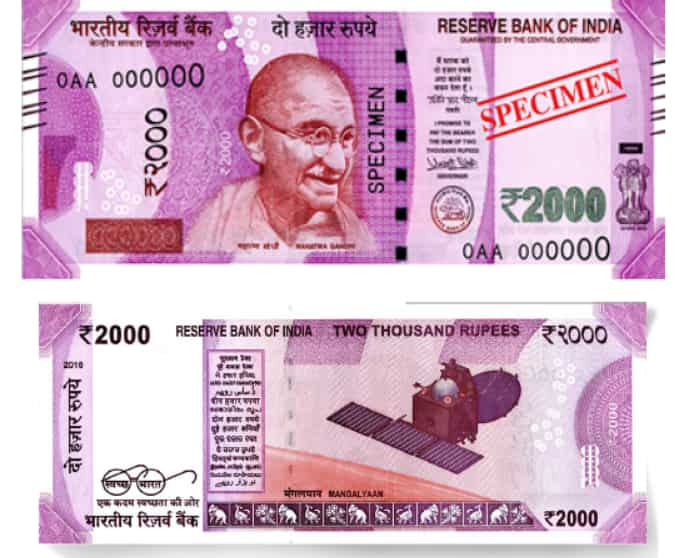 Reverse (Back)
1. Year of printing of the note on the left.
2. Swachh Bharat logo with slogan.
3. Language panel towards the centre.
4. Motif of Mangalayan.
5. Denominational numeral २००० in Devnagari.
Finally, remember that dimension of the banknote will be 66 mm × 166 mm.
Beware to which Rs 2000 note you carry. Help the government in ending the fake notes and black money terror.
Source:- zeebiz
Share: